Introducing ABLE Pediatrics to Parents
Starting a pediatric clinic is hard. Getting it known is even harder. But when ABLE Pediatrics first began, it had some pieces in place to build on – it was time to make it known.
Website: ABLE shared a designer with the rest of the Soto ALG enterprise, with which it was affiliated. The Squarespace site had strong photography and a clean layout, great building blocks for any digital marketer.
Some changes were made to provide a clearer call to action on multiple pages, and the menu was condensed to reduce duplicate URLs and fit an ideal space. Additional content was also written for nearly every page with the goal of showing ABLE's value proposition and resonate with those who might need pediatric care. I also used an online tool to develop a privacy policy to ensure future advertising efforts were clearly identified to visitors.
SEO: More content on pages provided an opportunity to optimize for relevant, local keywords, with on-site optimization leading to a first-page Google ranking within weeks. Setting up citations on sites such as Factual, Bing Places, and Yelp also strengthened organic ranking, while moving the business up in Maps rankings.
Analytics: Setup, implementation, and goal tracking were quick wins to provide business leaders data to see how their website was doing – and help guide future decisions. I built a dashboard to provide a monthly snapshot, with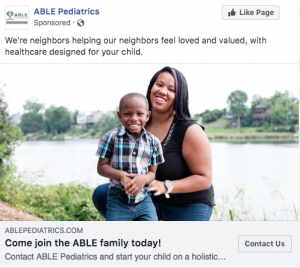 Facebook Ads: To ensure brand awareness, three test campaigns were run targeting parents of children ages 0-12 years. Special interest was given to those with infants and toddlers, who would be more likely to stay at the clinic long-term.
The impact, while not driving many conversions, did increase brand awareness – a spike in "ABLE Pediatrics" search traffic in Google could be traced to the beginning of Facebook ads.
Google Tag Manager: One challenge was learning just how people reached out to ABLE – and how they got there. With a click-to-call phone number in multiple places, installing GTM was a must to differentiate form submissions vs. phone calls. It also allowed us to differentiate in ad performance and shift targeting towards higher brand visibility once we saw Google traffic performance tied to Facebook advertising.
The result:
✓ Steady growth in new patients
✓ Increased brand awareness demonstrated through ABLE-related Google searches
✓ Ability to track campaign performance
✓ First-page visibility on primary keywords