The power of excellent writing and copyediting is boundless.
I've done a wide variety of writing and editing – from compelling ad copy to SEO-related content for business websites to articles for different publications. With digital marketing, great copy leads to greater customer interest and longer time reading about you, and great ads with strong calls to action get people there.
I wrote the entire copy for sites such as M3, Pediatric Therapy, Legendary Sports, among many others. Most design pieces, from flyers to websites, also cross my desk for a thorough look-through for grammar purposes. I've also published on multiple client blogs – such as M3 and Rhodes Law Firm – and I'd be happy to give you more details and examples!
In previous jobs, I was an occasional contributor to Georgia Regents University's GReport – and thoroughly enjoyed writing (and producing the video for) the story of A Man and His ELF. As you'll notice immediately, I enjoy writing a bit anecdotally, because my writing style comes back to a basic question I use in all my projects: "Would I want to read/watch this?" This is evident in two other stories I did: The first is a first-person/sights-and-sounds account of undergraduate students' first day back on campus entitled We Went There: Summerville's First Day. The second is a profile I did on one of the centers on the undergraduate campus, entitled ECT Center more than just Macs.
I was also able to write a season recap story for GRU's (now Augusta University) GRavity magazine, which is mailed to over 50,000 alumni. As I've worked many sports events ever since I arrived at then-Augusta State University, I had a unique amount of comfort and trust with many of the athletes. Thus, putting a historic 2015 volleyball season into words fell to me, and I was happy with the result (click the photo to enlarge it and have a read!):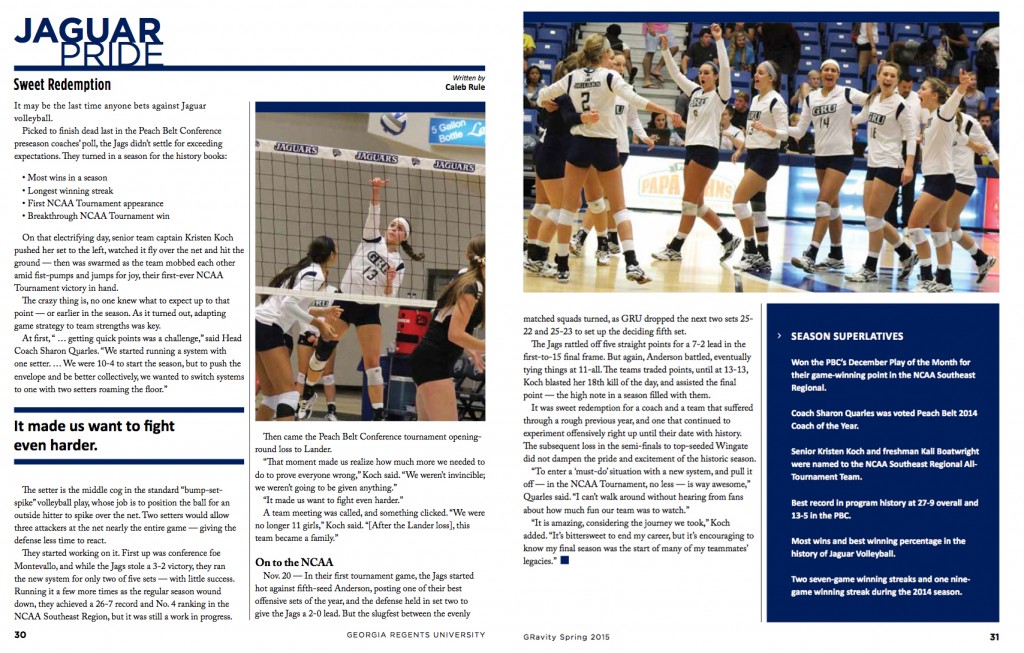 A bit later, I had the privilege of interviewing two men you wouldn't normally associate together – a potter and a professor of medical research – and their endeavor to create a kids' camp unlike anything else. With the chance to write a feature story any way I wanted, "Art + Science + Kids = Living Clay" became reality.
I experimented posting on LinkedIn Publisher, more as a test to see what would happen when I did. Someone also in the realm of higher education saw the post, and asked if she could re-purpose it, to which I readily agreed. Thus, my article on benchmarking your social media efforts is now live at higheredanalytics!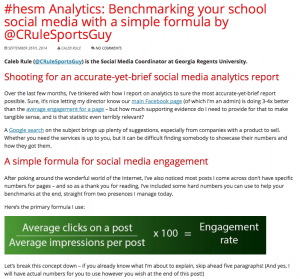 If you peep at my résumé, you'll notice I say I've done work for the Augusta Chronicle as a stringer. For those who don't know, that's a newspaper term for 'freelancer' – if they need me, they ask! I've covered events such as Richmond Academy's 17-7 takedown of Glenn Hills, and my first-ever professional hockey game (it's freezing in there!) resulted in this story after the Augusta RiverHawks took a 6-3 victory.
The following were published with The Telegraph, Macon, Ga.'s largest newspaper. All stories for The Telegraph included compiling stats, usually beating a nightly deadline…proof I can work under pressure. For instance, football games often ended about 10 PM, with an 11 PM deadline. But I still had to get an interview or two, and then travel to a place with Internet to type/send in each story.