The Pedowitz Group (TPG) is a marketing consulting agency typically working with global organizations, with many clients in the Fortune 1000, including some in the Fortune 100. Thus, my team doesn't just do marketing … it targets marketing to marketers.
And when I arrived, a line I ended up saying often was "we're paying for the sins of the past right now."
To wit, some mistakes that'd occurred:
Giving the internal marketing team 5 weeks to do an entire website overhaul in Q4 2019, which left SEO an afterthought and tanked organic
Often sourcing content to client-facing consultants, including multiple blogs a week
For nearly 10 years, didn't have a dedicated, built-out marketing team … it was often "extra" work for consultants
No dedicated Sales team before 2021
This led to a bevy of problems, summed up like this: The team wasn't considered a primary revenue driver for the company. We changed that.
Results include:
✓ 3x ROI in 2020 as a team despite the pandemic
✓ Best Q1 results for this team in company history in 2021
✓ Third-best Q4 2022 for marketing-sourced pipeline
✓ 5x growth in top-3 organic rankings
✓ ABX program implemented + sales team fully enabled
In 2022, I accepted a promotion to become the Director of Marketing and lead the team as we shifted how marketing worked across the organization. We went from a primary demand generation team to one that focused on both net-new acquisition and customer expansion.
Here's a deeper dive into some of my role(s) in our revenue growth:
Brand
When I moved into the Director role, I knew we had some piecemeal experiences for customers – including the website. Working with our Content Marketing Manager and Website Owner, we created a more modern, streamlined B2B experience that immediately sped up the site and created 30% greater content consumption.
Want to see the old site? Click here for the web archive. And go to pedowitzgroup.com to see the new version.
We developed a new data sheet, brought customer testimonials more forward in a person's research journey, and moved to eliminate the words "we" and "us" whenever possible to drive greater customer centricity in each touchpoint.
Search Engine Optimization + Content Marketing:
I realized we had a lot of outdated, irrelevant content … and Google Search Console's data agreed. I ended up deleting 1/2 of the website in Q2 2020 while also working on sitewide SEO initiatives.
The result? Aside from writing a blog detailing my SEO content audit and its results, rankings have steadily risen and organic is easily our No. 1 driver of leads, pipeline, and closed-won revenue for the team.
In fact, 80%+ of leads in the first five months of 2021 had an initial touch of organic!
While this was a major focus for me initially, as my role grew it became tougher and tougher to stay as focused on this as I poured more energy into …
Account-Based Marketing
I inherited our instance of 6Sense, which had been setup but had nobody actively using the platform before I was hired. Operationalizing this platform became a major point of focus, and our team used its data to better inform marketing plans, sync with Sales, and enable our Sales team to make much more informed outreach.
Transitioning to an account-based approach has its challenges, but it worked with the rest of our efforts to generate stronger pipeline.
Website
In Q1 2021, my role expanded as I took over ownership of pedowitzgroup.com and all digital properties. This included all strategy, such as project prioritization / management and vendor management as well as often hopping into the site and working on front-end changes.
I opted to fire our current web agency in favor of a different option which I vetted and hired, which turned out to save the company 25% on outsourced web costs while maintaining the steady progress.
In addition, the site continues to rate better in key speed metrics and high-value pages continue to be optimized to meet evolving customer demands, such as deciding to redesign our customer stories page based on heat mapping data showing our previous page was missing the mark.
Drift

Also in Q1 2021, I grew to own Drift, our conversational marketing platform
At the time, we'd only recently adopted the platform and had one generic catch-all bot firing across the site. In six months, I grew that to be 20+ playbooks with a scalable process for a much stronger on-site experience, including switching gated assets from forms to chatbots (which enabled less friction in sign up processes + allowed customization based on our ideal customer profile).
In the first half of 2021, Drift generated $200K+ in directly-attributable pipeline and over $50K in closed-won revenue, while also creating a seamless experience for earlier-stage leads by replacing forms with chatbots throughout the site. It's also supported ABM target account experiences that has influenced another $500K in pipeline.
Lead Management
As a Manager, I assisted in multiple aspects, from identifying gaps in our process ("Why's this lead not marketing-sourced when the last touch says "TPG website?") to working with Sales on lead scoring updates to even occasionally making sales calls / emails / LinkedIn outreach myself.
It wasn't a primary responsibility, but I was absolutely an active participant in supporting this crucial process.
As a Director? You'd better believe I spent a lot more time in Salesforce reporting and in contact with Sales and Account Managers about key contacts, pipeline opportunities and gaps, and getting customer feedback!
Inbound Advertising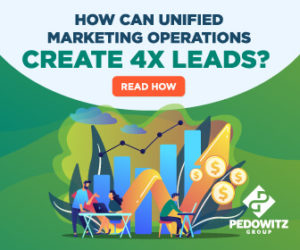 Through experimentation with Twitter, Google, 6Sense, LinkedIn, Facebook, GeniusMonkey (programmatic), and AdRoll, I've continued to shift "levers" until finding a go-to-market strategy our team felt comfortable with.
Currently, we rely on a mix of LinkedIn, Google, and 6Sense ads as the primary drivers, but the other channels are used in various capacities. And as 6Sense capabilities continue to change (such as importing segments into Facebook), this mix will probably have shifted by the time you read this!