Club Car Onward PTV launch
In January 2017, Club Car launched its new consumer-focused vehicle, Onward. With 60 years in the golf industry, and well-known utility vehicles, the company's brand itself would be a challenge for this consumer-only vehicle that didn't fit into typical business work cycles.
With a B2B2C model through authorized dealers and a digital marketing team of two, there was much to be done.
The result:
✓ Initial sales goals exceeded
✓ Leads more than doubled for the enterprise
✓ Branded terms consistently grew in Google search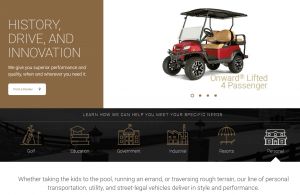 ✓ Social media audiences diversified and grew, with users sending in photos of their vehicles
✓ Digital team was part of a President's Award-winning team for the successful launch, one of two awards I received in my tenure
Website updates – Not only did a website refresh modernize the site, but it was on-brand and provided a clean, crisp look. We also took the site from AEM 5.6 to 6.1 and built out new webpages while rolling out multiple enhancements to the site, such as migrating our Dealer Locator to the clubcar.com domain and optimizing the site for faster load times through image optimization, JavaScript compression, and more.
Through code builds, I've led regression testing efforts, mapped out project timelines and responsibilities, and used tools such as BrowserStack to ensure all bases are covered.
SEO – The "Personal" section was optimized for multiple keywords, such as "golf cart" and "electric golf cart." We saw our positions rise for primary keywords, while also tracking branded terms to watch the growth in brand awareness.
I measured our organic digital share of voice using SEMrush data via an Excel spreadsheet I developed, and it tracked our gains until we had overtaken the primary competition – despite a stronger brand awareness for competitor vehicles.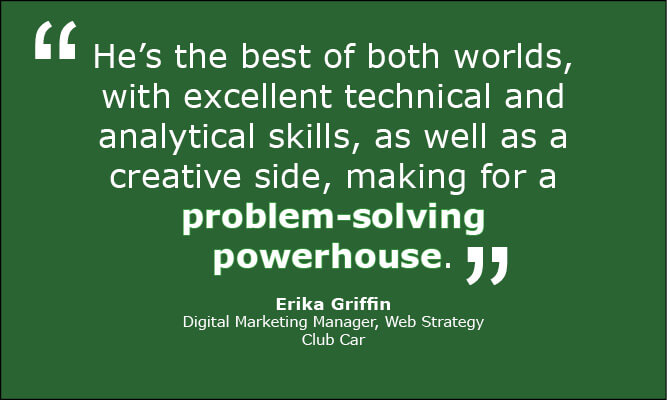 Search and Display – Through AdWords and social, we first targeted key areas around dealers who carried the Onward vehicle, eventually expanding to all of North America. Custom affinity groups based on customer personas allowed for more targeted display marketing, with eventual lookalike audiences built from customers who created a vehicle.
Search targeting not only went after market keywords, but also competitors in the space to "insert" ourselves into customer journeys.
Analytics – We tagged everything we did, tracking ad performance and watching user behavior across the site. We realized competitive AdWords was producing a higher-than-expected number of visits to find an authorized Club Car dealer (a primary call to action), which caused us to shift money from display to search. We also made adjustments based on bounce rate, contact us form submissions, and more – refining the site through authentic user feedback.
Salesforce – We integrated with the company's Salesforce instance with all digital forms, and tracked MQLs and conversions through the platform. Leads more than doubled for the company from digital properties, with the company exceeding revenue targets for the initial year of launch.
Social media – Customers had questions, and we had answers. Ensuring fast, accurate answers comments on ads, posts to our wall, and messages to our inboxes was key in building trust. We built the page from having little engagement to receiving multiple messages a day from various international locations while driving interest to webpages to grow remarketing lists.
Local SEO – To enhance our channel's capabilities, I developed a seven-part course covering SEO and Local SEO, which also touched on web UX. It walked dealers through what a good website looks like (and why it matters), how to optimize their site for Google/Bing and to rank high in map results, listed available tools and any costs to expect, and provided links to many additional resources.